Dyana Abbots
what evil is your beauty yet to cause.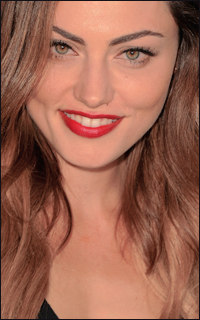 Inscription : 22/05/2015
Messages : 351
Face + © : phoebe tonkin. (© bombshell)
Multinicks : levi, elyana.
Pseudo : coyotes, clau.
---
Age : twenty something.
Job + $ : newly mother 24h/24, pharmaceutical technician.
Bucket list : buy him that toy he keep talking about ○ try not to kill self before christmas, halloween would be more realistic tho. ○ avoid neighbor, he's jerk material.

LOVE AND HATE SUCH A FINE LINE
Relations or contacts:
Disponibilité: available (1/2 - maisy)

Sujet: • FICHE TERMINÉ. Jeu 4 Juin - 15:26

---

fiche terminé

gone gone gone

Une fois votre fiche complété, assurez vous que vous respectez les règlements, ils sont afficher ci-dessous en tant que rappel. Ensuite, postez le petit formulaire çi-dessous avec le lien de votre fiche. N'oubliez pas de mettre l'URL de votre fiche.

Votre profil devra être compléter avant votre validation. Il n'a pas été créer pour faire jolie, mais pour aider les membres qui demandent des liens, ou qui viennent de s'inscrire. Cela évite d'avoir dix docteurs. De plus, n'oublier pas de créditez vos avatars. 'Regardez dessus' ou 'Bazzart' ne sont PAS des crédits. Les créateurs mettent beaucoup de temps pour faire des avatars, c'est une question de respect.

Code:

[code][b]AVATAR EN MAJUSCULES[/b] • pseudo du personnage en minuscule[/code]
[size=11][b]Groupe[/b] - écrire ici.
url de votre fiche dans ce coin[/size]

_________________

light on my feet, light in your eyes, i can't even speak. do you even know how you make me weak? i'm a lightweight, better be careful what you say. (ladynadinne)
Carla Brillinger


Inscription : 12/06/2015
Messages : 22
Face + © : danielle campbell + lilou_59
Pseudo : azzura
---
Age : 23 ans
Job + $ : étudiante en économie + $$$


Sujet: Re: • FICHE TERMINÉ. Dim 14 Juin - 8:08

---

Code:

[b]DANIELLE CAMPBELL[/b] • carla brillinger

Groupe - money is the anthem
ici les amis

merci
Roxy Cohlens


Inscription : 05/06/2015
Messages : 13
Face + © : margot robbie, bombshell (ava); aubreygrams (sign).
Pseudo : crick, dorine.
---
Age : 26.
Job + $ : fashion designer, founder of Catwalks, $$$$$$$.

LOVE AND HATE SUCH A FINE LINE
Relations or contacts:
Disponibilité:

Sujet: Re: • FICHE TERMINÉ. Dim 14 Juin - 11:43

---

Code:

[b]MARGOT ROBBIE[/b] • roxy cohlens

Groupe - Wild Things.
http://valleyofthesun.1fr1.net/t77-nothing-else-mattersmerci d'avance. j'espère que ça ira.

_________________

Just when you thought you were lonely, they put you under the right spell, wake up tomorrow you're gonna be, living the right life.
Contenu sponsorisé

Sujet: Re: • FICHE TERMINÉ.

---