Dyana Abbots
what evil is your beauty yet to cause.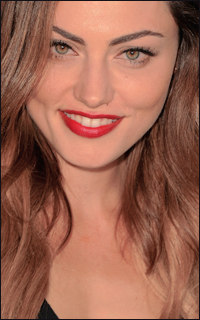 Inscription : 22/05/2015
Messages : 351
Face + © : phoebe tonkin. (© bombshell)
Multinicks : levi, elyana.
Pseudo : coyotes, clau.
---
Age : twenty something.
Job + $ : newly mother 24h/24, pharmaceutical technician.
Bucket list : buy him that toy he keep talking about ○ try not to kill self before christmas, halloween would be more realistic tho. ○ avoid neighbor, he's jerk material.

LOVE AND HATE SUCH A FINE LINE
Relations or contacts:
Disponibilité: available (1/2 - maisy)

Sujet: • RECHERCHE DE RP. Jeu 4 Juin - 15:29

---

recherche de rp

know knock, who's there?

Parfois on a une envie de rp qui nous démange et là ... Personne avec qui rp. Ou encore, parfois, nos liens importants sont déjà overbookés et ne savent pas répondre dans l'immédiat. Ce sujet est là pour que vous puissiez passer une petite annonce si jamais une envie de rp se faire ressentir mais que vous ne savez pas à qui vous adresser. Sentez-vous libre de passer annonce ou de répondre à une d'elle dans ce sujet.

_________________

light on my feet, light in your eyes, i can't even speak. do you even know how you make me weak? i'm a lightweight, better be careful what you say. (ladynadinne)
Brody Hatcher


Inscription : 10/06/2015
Messages : 31
Face + © : drew van acker (twisted lips)
Pseudo : distant memories.
---
Age : vingt neuf ans
Job + $ : organisateur d'événements ($$$$$$)
Bucket list : enlever mon alliance, passer du temps avec Luke, sortir un peu moins...

LOVE AND HATE SUCH A FINE LINE
Relations or contacts:
Disponibilité: open bar les gars

Sujet: Re: • RECHERCHE DE RP. Jeu 11 Juin - 12:26

---

bonjour, bonsoir

je recherche un partenaire rp (tout est dans le sujet en même temps

)

mais j'aimerais un rp spontané, sans lien particulier, juste un petit contexte pour mettre nos personnages en place

histoire de se faire de nouvelles rencontres pour nos persos, parce qu'il est vrai qu'on peut rencontrer des gens tous les jours et s'en faire des amis/des ennemis

si quelqu'un est intéressé, n'hésitez pas à m'envoyer un petit mp